Model 2031 Digital Flowmeter

---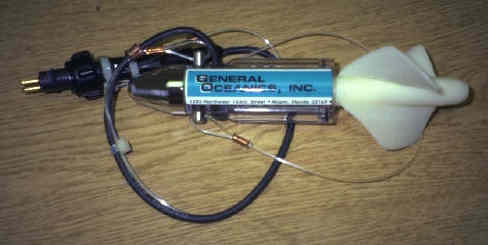 ---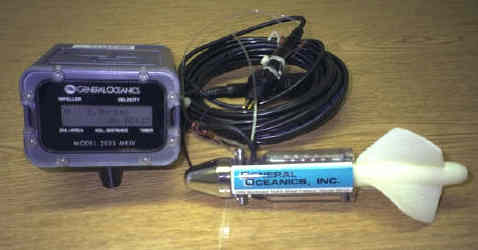 ---
Model 2031/2035 series
Electronic Flowmeter and Readout

The model 2035MK4 readout is a real time hand held microprocessor controlled data acquisition unit. When used in conjunction with our flowmeter sensor, this battery operated waterproof unit displays current velocity in cm/sec, ft/sec. m/sec, or knots. The easy-to-read two line liquid crystal display also gives you total distance travelled, or volume in cubic meters. The microprocessor based unit provides an event timer with external start/stop freeze display switch.

The 8 oz. flowmeter sensor Model 2031H is made of rugged non-corrosive materials, measures flow rates from 2cm/sec to 7.9 m/sec, is self-orienting and has unlimited depth capabilities. Optional 128k memory, RS-232 and software for data recording.

2031 Series Electronic Flowmeter

Weight in Air: 225 grams (8 ounces).
Weight in Water: 113 grams (4 ounces)
Materials: Celcon rotor. Nickel-plated brass nose cone. Polycarbonate body. Armaloyed stainless steel main rotor and idler gear shafts.
Dimensions: 21.3 cm (8 3/8") overall length.
Standard rotor diameter: 6.98 cm (2 3/4").
Low-speed rotor diameter: 16.5 cm (6 1/2").
Depth Rating: Unlimited (free flooding).
Data Readout: Six 10-digit counter wheels reading 000000 to 999999. Ten counts per rotor revolution, non-resetting. Read by noting difference in beginning and end readings. (counter advances through 000000).
6-Digit Full Scale Counter: 999999 counts equals approximately 14.5 nautical miles.
Mounting: Universal bridle allowing single-point connection for towing or two-point connection within net mouth.
Response with Standard Rotor (Model 2031H) Threshold: Approximately 10 cm/sec (1/5 knot).
Range: Approximately 10 cm/sec (1/5 knot) to 7.9 meters/sec (15 knots).
Response with Optional Rotor (Model 2031HR6) Threshold: Approximately 6 cm/sec (3/25 knot).
Range: Approximately 6 cm/sec (3/25 knot) to 100 cm/sec (approximately 6 knots).

Standard Order (2031 series)
Standard order of Model 2031 series electronic flowmeter includes rotor (specify standard or low-speed rotor), universal bridle and "pigtail" (short length of cable and underwater connector for connection to readout cable). Order readout (Model 2035MK4 or GOE520c) additionally.

Model 2035MK4 Data Readout

Weight: 96 kgs (2.1 lbs.) - including batteries
Dimensions: Height - 7.3 cm (2.9 in.), Width - 10.9 cm (4.3 in.), Depth - 11.3 cm (4.7 in.)
Data Readout:
Multiple parameter display (two line, 32 character, high contrast super twist LCD) shows impeller, velocity, aperture, distance (or volume) and event timer.
Velocity to four digits (under selectable ranges include cm/sec., ft./sec., knots).
Distance calculated in nautical miles or meters (selectable).
Volume computation displayed in cubic meters, five standard net sizes plus users own entry.*
Event time to 100 minutes (automatic roll over and display hold capabilities).
Data point time tag every tenth update.*
Options: 128k memory module; RS232C interface; software options available.
Enclosure: Waterproof, resilient PVC housing with clear scratch resistant face plate. (Nylon web shoulder strap included).
Power: Three 9 volt transistor batteries (Eveready no. 522 or equivalent) allows approximately sixty hours of continuous use.

Standard Order
Standard order of 2035MK4 includes batteries, shoulder strap and one 10-meter (33-foot) 3-conductor cable. Extensions available; order 10-, 20-, 30-, 40-, or 50- meter lengths (33, 66, 98, 130 or 164 foot).

---
Optional Data Readout
Model GOE520c
Multi-Function Water Quality Meter
The GOE520c is the intelligent, cost effective solution to measuring water quality and chemistry parameters. With a wide choice of compatible electrodes, you can tailor the GOE520c to your specific needs and extend the scope of your instrument to meet new requirements as they arise. Dissolved oxygen, ph, conductivity/salinity/total dissolved solids (TDS), turbidity/total suspended solids (TSS), open channel flow (utilizing the 2031 Electronic Flowmeter), temperature and ion concentration are quickly measured with this versatile, hand-held instrument.

The portable, lightweight GOE520c is ideal for accurate and reliable spot checks of water quality in the laboratory or in the field.

Applications:
Stormwater Discharge, Wastewater Treatment, Laboratories, Aquaculture and Aquariums, Industrial Processes, Paper and Pulp Discharge, Groundwater, Power Generation, Building Services, Environmental Impact Studies.

Specifications:
Display: Liquid crystal display
Battery Type: Nickel Cadmium rechargeable or 3x Alkaline C size.
Battery life: Nickel Cadmium rechargeable- 50 hours ,depending on type of electrode. Alkaline-200 hours, at 20 deg. C.
Dimensions: 2.9" (75mm) wide x 1.6" (40mm) depth increasing to 4.4" (112mm) wide x 2.6" (65mm) depth.
Weight: ( with batteries): 2.6lbs. (1.2kg).

Note: The GOE520c may be used with most electrodes in this literature ( see Water Monitoring section , Electrodes, Probes, Sensors).


---
Model 2031H - Standard electronic flowmeter
Model 2031H - Standard electronic flowmeter
Model 2035MK4 - Data readout for electronic flowmeters
Model GOE520c Optional data readout for electronic flowmeters
Model 203021 Standard Rotor
Model 203026 Low Velocity Rotor
Model 2030W - Optional Telescoping Wading Rod (1 to 2.8m)
Return to the Product Catalog.