Model 1016 Intelligent Rosette Water Sampler

---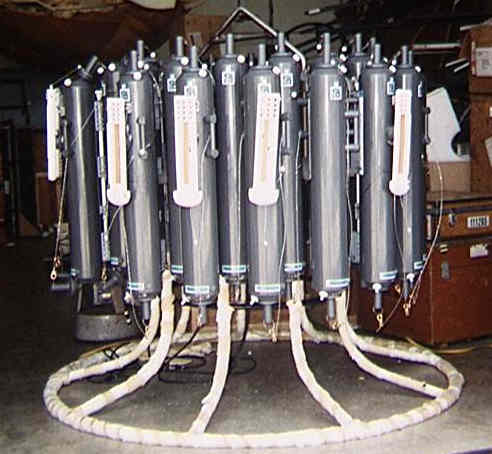 ---
INTELLIGENT ROSETTE MULTIBOTTLE WATER SAMPLING SYSTEM
Model 1016
The General Oceanics, Inc. Intelligent Rosette system has a new and innovative bottle tripping mechanism. The trigger mechanism has been improved and simplified to allow continuous operation without the previously required alignment and adjustment. This, coupled with a redesigned lanyard loading and tripping mechanism, allows simple and positive bottle closure. The unit may be triggered sequentially or randomly allowing user selection of the sampling bottle to be activated. The Intelligent Rosette can close up to 36 individual bottles. The system includes software which provides menu selectable commands .

Models 1016-12, 1016-24 and 1016-36 Intelligent Rosette multibottle arrays accommodate 12, 24 or 36* sampling bottles. The standard Intelligent Rosette is a two component system: (1) a computer directed surface control interface/power supply and (2) a logic controlled submersible sampler mounting array which selects and remotely closes General Oceanics' water sampling bottles. * (12 Liter maximum capacity)

Model 1016 Intelligent Rosettes may be used with all existing or new General Oceanics water sampling bottles. The Intelligent Rosette can be operated either independently or in conjunction with CTD systems without data signal interruption. A number of different Rosette/CTD configurations are possible depending on the age and model of the CTD. Please consult factory before ordering. The new submersible array units are the same dimension as the existing Model 1015 (12 & 24) units which provides ease of interchangeability.

Rosette adapter plates are provided to accommodate various sampling bottles from 1.7L to 30L capacities and now incorporate positive bottle locking safety pins, as an added safeguard. Hole patterns are provided which allow General Oceanics' sampler tripping mechanisms to snap securely in place and to permit quick attachment or release. Optional upper or full protective frames are available.

Bottles used on the Intelligent Rosette may be fitted with model M1000-3 or M1000-4 reversing thermometer assemblies (the number and volume of the bottles determine how many bottles may accept reversing thermometers and can be operated on the Rosette).

OPERATION
Single or multi-conductor electro-mechanical cable may be used for remote activation. Control of the Intelligent Rosette does not interfere with CTD operation. Control and logging functions are managed by an on-board microprocessor. Communication between the submersible unit and the surface control interface is accomplished by FSK modems. The surface control interface uses either a computer or dumb terminal to operate the Rosette. In addition, the Intelligent Rosette and CTD may be powered and operated with a single power source using OCEANSOFT software for Neil Brown CTDs or may be programmed for battery operation. General Oceanics communication software, command interface module and operation software are supplied with the standard system.

BATTERY OPERATION
The Intelligent Rosette may be pre-programmed and operated under battery power . In this configuration an electro-mechanical cable is not necessary. Additional sensors may be attached to the Rosette using the optional twenty four conductor pie connector. The Rosette can then be triggered on a time or event basis using the on-board controller and the external sensors.

SUBMERSIBLE ARRAY SPECIFICATIONS

DEPTH CAPABILITY:
Full-ocean depth (20,000 p.s.i.)

EXTERNAL MATERIALS:
Hardcoat-anodized aluminum top plates, bottom plates and pylon (submersible array). Stainless steel hanger and actuator arm with glass/delrin release pins. Rubberized dacron pressure diaphragm. Mount stand and protective frames are made from solid aluminum bar stock.

POWER REQUIREMENTS:
Sea cable DC power > 30 VDC or 48 VDC Battery Pack.

SEA CABLE :
Steel armored electro-mechanical cable with inner conductor(s).

SURFACE CONTROL INTERFACE SPECIFICATIONS:

19" RACK MOUNT/DESK TOP 13"D X 13"W X 5 1/4" H
Voltage 110/220 VAC. 50-60 Hz @ 1A, RS-232C Interface, communications - 9600 baud, FSK, full duplex modem.

STANDARD ORDER:
Submersible array, hanger, surface control interface unit, or optional 1016FIRE module (for operation through OCEANSOFT CTD Software), mount stand, adapter plates, interconnecting cable, instruction manual and software. Order terminal unit (computer), mount stand extension and optional upper or full protection ring separately.

MAINTENANCE PROGRAM (MRP1)
With this program, equipment may be returned annually for the following factory maintenance:
(1) Disassembly, inspection and thorough cleaning of all mechanical parts of the submersible array,
(2) Refill pressure compensation oil in stepper motor chamber of the submersible array,
(3) Check and replace, as necessary, all O-ring seals within the submersible array,
(4) Inspection and electronic checkout of the surface control interface,
(5) Re-assembly, lubrication and system test of submersible array and surface control interface,
(6) Return of the system to the customer, shipping charges prepaid.

Customer will be notified of any needed repairs along with an estimate for the cost of parts and labor.

When feasible, system improvements introduced after the original purchase will be incorporated into the system upon customer approval of parts and labor cost.

Upon completion of the maintenance and repair program, the normal one year warranty on parts and labor will be renewed.



Return to the Product Catalog.