Model 1015 Rosette Water Sampler

---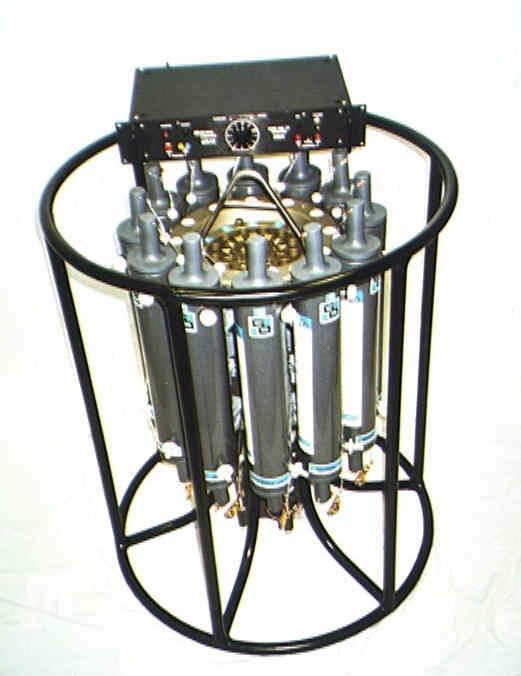 ---
Model 1015-12 Position 1.2L Bottles and PM-12 Deck Command

Rosette® Multibottle Water Sampling Systems
Description
Models 1015-12 and 1015-24 Rosette® multibottle arrays - accommodating 12 or 24 bottles - are two- component systems (deck command unit and a submersible bottle mounting array) for remotely actuating (in sequence) General Oceanics water sampling bottles.
Model 1015 series Rosettes are used with models 1010 Niskin , 1080 GO-FLO, or 1010X external spring bottles. The Rosette can be operated either independently, or in conjunction with CTD systems.
Bottles on the Rosette may be fitted with model M1000-3 or M1000-4 reversing thermometer assemblies (number and volume of bottles determine number of thermometer-reversing assemblies). All presently manufactured Rosettes have adaptor plates with a hole pattern to allow the bottles own tripping mechanisms to snap securely in place, and to permit quick attachment or release.
Operation
Only a single-conductor hydrographic cable is required, since the CTD is taken off line automatically during the 10-second Rosette sampling sequence.
Polarity of the Rosette can easily be changed by switches in the rack-mountable deck command box and electronic module in the underwater unit. Therefore, any CTD system now on the market can function with a G.O. Rosette system.
Generally, the CTD system is attached with clamps or interconnecting plate just beneath the Rosette and protected by the Rosette stand. However, a number of CTD's have been mounted directly on the Rosette in place of a bottle (attachment supplied by General Oceanics). The engineering department at General Oceanics, Inc. will assist the customer in designing the best mounting configuration.
Submersible Array Specifications
Depth Capability: Full-ocean depth.
External Materials: Hard coat-anodized aluminum top plates, bottom plates and pylon. Stainless steel release pins, cam shaft, springs. Buna-N O-rings. Rubberized Dacron pressure diaphragm. Mount stand of solid aluminum bar stock.
Power: 115 or 230 volts AC, ± 10%, 50-60 Hertz. 60W. Negative or positive power supply.
Sea Cable Requirement: Single - or multi-conductor electromechanical cable.
Optional depth sensor: Accurate to ± 0.5% full-scale. Digital deck readout in deck command rack mount.
Deck Command Specifications
8.9 x 48.3 x 24.4 cm (3.5 x 19 x 10") panel rack mount. Polarity switch allows use of CTD. Voltage 110 VAC and 220 VAC. Illuminated bottle-trip confirmation numbers. Test sockets for sea cable and CTD. Remote trigger switch optional.
Standard Order
Standard order includes submersible array, hanger, deck command module, mount stand, adaptor plates, interconnecting cable and instruction manual. Order remote trigger additionally. Order depth sensor additionally.
Maintenance Program (MRP-1)
For a nominal charge the equipment may be returned annually for the following factory maintenance:
(1) Disassembly, inspection and thorough cleaning of all mechanical parts of submersible array.
(2) Refill pressure compensation oil in stepping motor chamber of submersible array.
(3) Check and replacement as necessary of all O-ring seals within submersible array.
(4) Inspection and electronic checkout of deck command unit.
(5) Reassembly, lubrication and system test of submersible array and deck command unit.
(6) Return of system to customer, shipping charges prepaid.
Customer will be notified of any need for repairs along with an estimate for parts and labor costs.
When feasible, system improvements introduced after purchase will be incorporated, upon customer approval of parts and labor costs.
Upon completion of maintenance and repairs, the normal warranty on parts and labor will be renewed for another year.

Return to the Product Catalog